Commonly treated conditions include:

Allergies/asthma
anxiety/depression
arthritis/joint problems
back pain
bladder/kidney problems
childhood illnesses

constipation/diarrhea
colds/influenza
cough/bronchitis
dizziness
drug/alcohol/smoking addiction
effects of chemotherapy
fatigue
gastrointestinal disorders
gynecological disorders
headache/migraine
heart problems/palpitations
high blood pressure
heart problems/palpitations
immune system deficiency
knee pain
menopausal discomfort
neck pain/stiffness
premenstrual symptom
paralysis/numbness
rhinitis
sciatica
sexual dysfunction
sinusitis
skin problems
stress/tension
tendonitis

The Demonstration of Acupuncture Treatment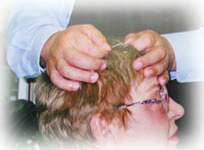 No. 1

Using scalp needle to treat a stroke patient who had paralized in her left side.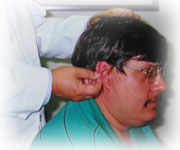 No. 2

Using ear needle to a patient who had low back pain.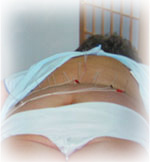 No. 3A

Using body needle to treat a patient who had low back pain with connected needle by the electrical stimulation to emphasize the pain reducing.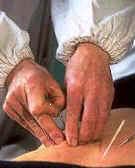 No. 3B

Traditional needle techniques to treat back Pain.

No. 3C

Traditional cupping used for back pain patient. The cup could be made either in glass or plastic. Using its negative pressure to suck the skin become red or red blue for 1-5 minutes after finishing the acupuncture treatment. The purpose to do this is to help reduce pain because the suction force after cupping could help the local area's circulation thus could reduce pain subsequently.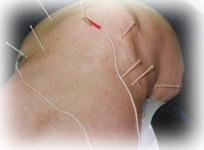 No. 4

Using body needle with the electrical stimulation to treat the patient who had the knee pain.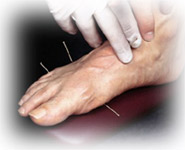 No. 5
The acupuncture on foot could solve many foot pain which your podiatrist can't do.
What Is Acupuncture and Oriental Medicine?
Acupuncture and Oriental medicine has been used as healing arts for over 2,500 years. The general theory is based on the premise that there are patterns of energy flow called Qi(pronounced chee) throughout the body which are related to the organs and tendinous-muscular system. when the energy flow is disrupted due to trauma, poor appetite, medications, stress, or other conditions, pain or illness result. Acupuncture focuses on correcting these imbalances of energy flow by inserting ultra-thin needless under the skin to stimulate specific points in the body. Stimulation unblocks the channels and encourages an even flow of Qi, restoring the body's balance and relieving pain and other symptoms.
Acupuncture and Oriental medicine is one of the newest primary health care professions in the United states. The benefits of acupuncture have become widely recognized and integrated with mainstream health care. Acupuncture's complex system of diagnostic methods take into consideration the person as a whole, not just isolated symptoms. Acupuncture practiced is based upon discerning the body's "pattern off disharmony" and treating accordingly.
Acupuncture and oriental medicine treats and strengthens the physical conditions, normalizes physiological functions, and controls pain. The aim is not just to eliminate or alleviate symptoms, but rather to treat the underlying cause, increase the ability to function, and improve the quality of life.
Since the 1970s when acupuncture and Oriental Medicine first became available in the United States, over 15 million Americans have tried it. Almost everyone knows someone who has had positive results. the risk is low and potential benefits are high. Knowing what to expect from acupuncture treatments can make a difference in the experience.
What is modern Chinese medicine?
Modern Chinese medicine is a combination of Western and traditional Chinese medicine's diagnosis, using acupuncture and Chinese herbs for the treatment. All the diagnoses and treatment in addition to your family physician or specialist's diagnosis, also
include the Western name of your illness, what tests you had done and what were the results. If you could provide a specialist's report, we also like to take a look, to further understand your condition. Besides, a Chinese diagnosis is based on the patient's symptoms, such as pulse, appearance of patient's face and tongue, abdominal palpitation and trigger point located etc.
What are the benefits of Acupuncture?

1) Reducing Pain. The body after being inserted with needles can produce Morphon like neuro-chemical matter, called endophine which is an analgesic matter that reduces pain without the side effects of cortisone injections.


2) Reducing spasm. Relieves and soothes the muscles and allows the organs to relax, so you can treat diseases like fibromyalgia, asthma, abdominal cramps, etc...

3) Reducing Inflammation. Could treat either bacterial/viral infection like bronchitis or aseptic infection like bursitis or tendonitis or radiculitis.

4) Reducing histammine. Could reduce the IgE level from the blood serum and so, your allergy symptom like allergic sinusitis or allergic dermatitis could improve.

5) Incresing your immune system, can be seen in T cell counts, PHA test, and IgG, IgM, IgA and CH 50 tests.
6) Increasing the serontonin level in your brain which is the nature neurochemical transmitters could make your mood change like anxiety, depression.


What are the benefits of Chinese herbs?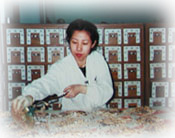 Simply speaking, either the patent's formula or the prescribed raw herbs from decoction is more powerful than most of the nutritional supplements you could get from health food store. In China, you often can read about a famous herbalist, who used his prescribed herbs, to save a patient's life. The herb is easier for patients to take, particularly for internal diseases. Above all, these Chinese herbs are much less toxic than some drugs. Please note approximately 100,000 Americans die annually from taking prescription drugs. This is a powerful and also a safe way to improve your health, however always consult a qualified Chinese herbalist beforehand.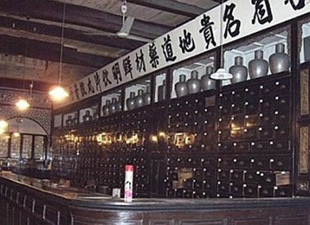 The store shown in the picture above is a very old Chinese herbal store, patients came here to buy the bulk of Chinese herbs or pills, powder etc. through the prescription either by the herbalist worked for the store or other herbalist Doctor by using their own formula. This is the way of ancient Chinese health system to maintain people's health for thousands of years which are even more popular than acupuncture's popularity. The side effects of the herbs are controlled by the hands of herbalist Doctor who is directly responsible to the patients and the reputation of the store is also their important reference.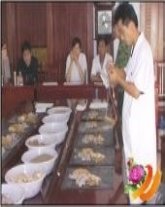 Peoples are waiting for the bulk herbs packed by the skilled herbal worker.

The herbs need sorted well and checked by the skill herbal worker again before package.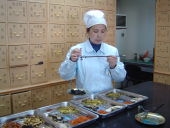 The skilled herbal worker is measuring the doses of each individual herbs as the prescription by the herbalist Doctor.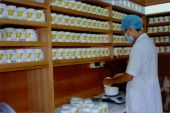 Many TCM practitioner today are using more convenient forms of powder, capsule or tablet, pills etc. instead of cooking the herbal tea by yourself. However, the direct cooking still has the tea's best value, particular for those patients who want their diseases recovered more quickly.

What to Expect From Acupuncture Treatment?
Being informed and understanding what to expect from acupuncture treatment from the beginning will make your experience more comfortable and less apprehensive.
Determine Your Goals

Are you looking for a Primary Health Care Professional, or someone to work with your current physician? Are you seeking short-term treatment for a specific complaint or do you want a prevention-oriented, holistic approach to the health of mind, body and spirit that Acupuncture and Oriental medicine can provide?
Selecting a Practitioner
Are you looking for a MD/DO physician acupuncturist with a training of 300 hours, no test needed or through a complete oriental medicine's education for at least four years with acupuncture and Chinese herbal medicine's clinical training not less 800 hours at school or hospital plus a competency test from Acupuncture Committee of State Board or National Certification Commission for Acupuncture and Oriental Medicine(NCCAOM)? How many years of his/her experiences? What his/her specialty? Do they have reputation from your friend, your relatives or your Doctor? What credentials could provide you? Upon receiving those information, should help you to make a right decision.
What is the Chinese Herbal therapy?
Chinese herbs consist of a variety of naturally found products that promote health. The herbs may be dispensed in pills, capsules, powders, tinctures, or in raw form, which requires boiling as a tea. Most herbal formulas formulas consist of four to fourteen or sometimes up to eighteen herbs and treat a wide variety of symptoms while stimulating the body's natural healing process.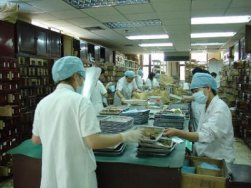 Herbal preparation room inside the hospital
What is the Acupuncturist's Diagnosis?

An acupuncturist's diagnosis is determined in part using methods similar to other health care practitioners: asking patients for a thorough history of their health and chief complaints, performing a physical exam, and ordering laboratory tests, X-rays and MRIs if necessary. However, the acupuncturist also has unique diagnostic techniques,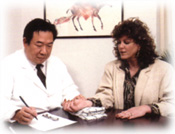 such as taking the patient's pulse on both wrists and observing the tongue,complexion and other signs. The three pulses felt on each wrist correspond to the major body organs and functions. The practitioner should explain the nature of your problem and the recommended treatment.



The pulse diagnosis could let your acupuncturist/herbalist Doctor understand your inner organ's condition, just like an M.D. using stethoscope to find out what's wrong in your body.

What is the Acupuncturist's Treatment?

Modern acupuncture needles are from one to three inches long, ultra-fine and quite flexible stainless steel. They are pre-sterilized, nontoxic and disposable. When the needles are tapped into the skin, there may or may not be any sensation. Much depends on the location (hands and feet tend to be more sensitive), the condition being treated and the acupuncturist's technique. Ten to twenty needles are typically placed in several acupoints and are usually left in about 20-30 minutes. The goal is to normalize the circulation of Qi and blood by stimulating the energy point, which encourages the body's natural healing process. Stimulation can be done by rotating the needles manually or attaching electrodes to send a weak electric current through the needles.
The number of treatments depends upon the duration, severity and nature of your complaint. Two or three treatments may be sufficient for an acute condition, while a series of 5 to 15 treatments may be needed to resolve chronic conditions. Some degenerative conditions may require ongoing treatments over a long period of time.
The following techniques may be included with your treatment: moxibustion(burning herbs), cupping(suction), auricular therapy (ear acupuncture), tui na(manipulation) and acupressure.
Patients should evaluate their progress after each session. Some relief should be apparent in two or three sessions, or six to eight sessions for more pervasive conditions. If you see encouraging signs, stick with it. Ask your practitioner questions about your treatment and improvement. If your response to treatment is not satisfactory, the practitioner may consider further diagnostic exams, modify the treatment plan, or refer to an appropriate practitioner, if necessary.
Who can benefit from Acupuncture treatment?
Patients of acupuncture range from infants to senior citizens. They may be seeking an alternative to western medicine or it may be their last hope for relief, having exhausted all western methods for treating a chronic condition. Acupuncture offers a low risk form of treatment with few side effects, and is usually worth a try.
How to find your own acupuncture Doctor?
Choose a practitioner who has the state license and practiced over 10 years in your area with good reputation from the words of mouth or patient's testimonials. Your local health professional recommended also very helpful.


If his/her regular or continuous TCM education was received in China with both clinical training in China and U.S. Total their school education shall not less than 5 years. Those background explanation normally could see from your local advertisement.


If they received an orthopedic & acupuncture education for a year and can do the IME-Independent Medical Evaluation for the insurance company is a plus.


Did he/she has the specialty in the field of acupuncture practice?


In my thinking a real good TCM practitioner in U.S. not only required proficient in English, if he/she could also proficient in Chinese also important for them to read the latest Chinese version of TCM medical journals issued by the major TCM medical school and hospital. It's just catch up the professional standard as in China similar like the M.D. could catch up their latest knowledge from the New England magazine.
Above information just in general from my personal experiences for you to choose a competent practitioner. In addition, the feeling of your personal contact is also important.
If all above information can't get it in full, sometimes an office visit through a consultation first is helpful.