Believe it or not, the following patient, just one visit already relieved her most pain in 2 years. She thanks me with her tears in eyes. She also tell me that she even tried another famous acupuncture clinic in our area without get help even.

Dear Dr. Tao,
I am desperate. Due to a head injury almost two years ago, in which I hit my head and dissected my right carotid artery (since healed), I have suffered acute migraines daily. My pain is semi-managed by Neurontin, Fioricet, and a lot of Motrin, but at times is nearly unbearable.
I am a 55-year old teacher, and I cannot imagine living my life this way forever. I was about to contact a doctor at the Mayo Clinic in Minnesota, when I realized that pressure on my face and head helps to relieve the severe pain. I went onto the Internet and found you. Do you think you can you help me?

> Sincerely and hopefully,
Mrs. Cohen
A Magic Story
from a Young Vietnamese female.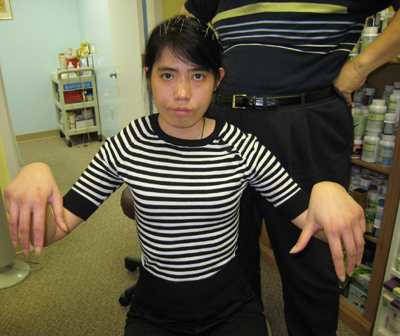 The Vietnamese-American young female was sick in Vietnam since 1993 at the place she works, started pain in her middle fingers and then gradually extends to both arms.
Before Treatment, the patient could only raise the arms like this height and can't close her hands and grasp articles well and influenced her working ability. Finally, she accepted her relative strong recommendation and came to see me.
I feel surprised that at such log time she didn't want to get help from health profession.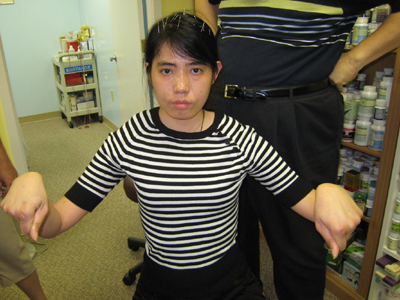 After only 3 visits of scalp needle treatment, the patient could close her hands well and has more strength in grasping, less pain and spasmodic in her arms and be able to work more delicate job now.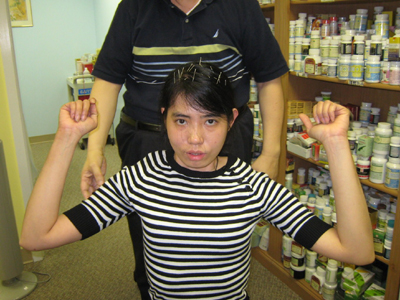 After as short as 3 visits treatment, she could raise her arms higher to touch her head and get more strength in her arms. Stop treatment because she need back to her home state in SD. She shows her very appreciated that what I treated her like a miracle. And will come back to get further treatment.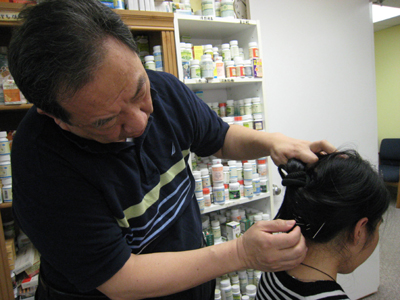 The new scalp needle includes needle the cortex area of cerebrum, cerebellum and cerebella's hemisphere which could help most of sequelae of post stroke, cerebral's palsy patients.